Hello all, how are we?
Just before I post my first review of the year, I thought I'd do a little update to the 2016 Reading Challenge and let you know what books I have added to my list so far.
As mentioned in my last post, I have decided to join in with
MMD's 2016 Reading Challenge
. I have been loving thinking of which books to pick. The only downside is that I want to read SOOO much that I'm struggling with narrowing it down to just one book per category! This is my list so far:
A Book Published This Year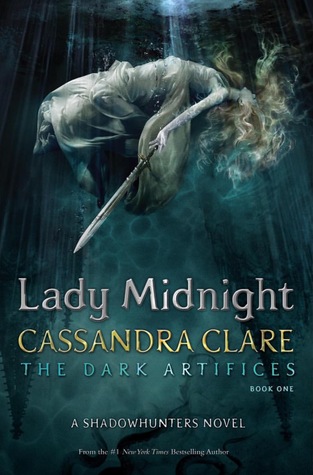 In looking up what books are due to be published this year, I was super stoked to find that there is a new Shadowhunters series due out this year! I'm still to finish the Infernal Devices, but loved the original Shadowhunter series and Clockwork Angel. Lady Midnight is due to be released on 8th March this year, so this will be a book for a couple of months time.

A Book You Can Finish in a Day
This was another fairly easy choice for me. Last year I was given a couple of Quickreads books from my local library. As I have read the other story, I figured this one would be perfect for this category.
A Book You've Been Meaning to Read
I had a little trouble deciding on this category, as there have been so many that I've been meaning to read. In the end, I decided on this one. This book was given to me by a friend, who had a couple of copies left over from World Book Night. It's been sitting on my bookshelf since! So, this category gives me the perfect chance to read this book.
A Book Recommended by Your Local Librarian or Bookseller
As I work in a school library, my boss (and local librarian ;-)) has chosen this book for me to read. I'm going to be honest, I haven't got a clue what this book is about and
Goodreads
hasn't really enlightened me that much! I can see that it's a classic and as I love a bit of historical fiction, I'm hoping that I will love this one.
A Book Chosen For You by Your Spouse, Partner, Sibling, Child or BFF
When I asked hubby what he thought I should read, this is what he's come up with. As I really enjoyed reading
Ready, Player One
for my book club last year, hubby thinks that I will enjoy this one too.
A Book Published Before You Were Born
This is another book taken off my bookshelf. When I started my current job, I fell in love with the cover of this book. Isn't it so pretty! Now, I may be in my mid thirties, but I think I can safely say that this book was published before I was born! Haha.
A Book That Was Banned at Some Point
I loved researching banned books for this category. we are setting a slightly amended copy of the 2016 Reading Challenge for our pupils at school and I've had so much fun compiling a list of banned books and the reasons for them being banned. Who knew there were SO many massive titles that have been banned! It did make it hard to narrow it down to just one for this category. As I liked the synopsis of this book, I decided to chose it for this category.
A Book You Previously Abandoned
This is a book that I started reading in October 2014!! I initially chose it as it looks similar to Joan Jonkers books, which I love. Unfortunately, for some reason, I just couldn't get into the story. I'm hoping that this time round it will captivate me and I manage to finish it.
A Book That Intimidates You
When thinking about a book that intimidates me, pretty much any classic would fit into this category . It took me about a year to read Pride & Prejudice, so I was debating on trying another Jane Austen. I then decided to go for a different classic - the wonderful Charles Dickens. We all know the stories, but I've never actually read the books. I do find the language of the older books difficult to read, so for that reason, I do find them intimidating.
A Book You Should Have Read in School
A Book You Own But Have Never Read
A Book You've Already Read At Least Once
I've not yet chosen which books I'm going to read for these categories.
It's been a while since I was at school, so trying to think of what I should have read at school that I didn't is tough. I am toying with the idea of George Orwell's 1984. I studied Animal Farm for my GCSE's, but the whole 'Big Brother' story intrigues me. One of my guilty pleasure is the TV show Big Brother, so it would be nice to find out where the idea came from. I will get back to you on that though. I do seem to have quite a few classics already!
For the book you own, but have never read, my bookcase is full of books I haven't read yet! Three and a half of them are listed above. Not to mention my Kindle list. Trying to narrow it down to just one more will be difficult!
Lastly, a book I've already read at least once. Again, there's loads! Just on my Goodreads I've logged 104 books and I only starting logging my books in the last 2-3 years! I have agreed with my 7 year old son that we would start reading Harry Potter series together, so that may go down for this category, but, as that might take us a while (he doesn't have the ability to read for hours like me!), I think it will have to be a different book off the bookshelf.
Well, that's all we have so far. How are you getting on with your lists? Don't forget to check out
Modern Mrs Darcy's post
to see hers!
Jackie. x